Description
Watch Our Tutorial: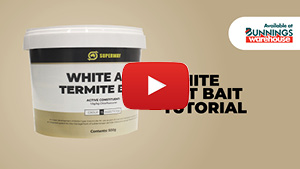 Superway White Ant Termite Bait is recommended for use with the Superway Termite Baiting Stations however can be used in other in-ground/above ground baiting stations. It may also be placed directly into termite workings or other areas where termite presence is detected e.g. fences, poles, trees, bridges.
General Instructions
Superway White Ant Termite Bait is used with in-ground and above-ground Stations and can contain up to 400g of bait paste. Superway White Ant Termite Bait in-ground stations are designed to intercept foraging termites with timber interceptors and to concentrate their feeding in the stations. In-ground stations containing timber interceptors are embedded in the soil around the perimeter of the building at intervals of 3-5 metres. Station placement is focused in areas where termites are most likely to be found foraging. These Stations are inspected on a regular basis at approximately 8 to 12 week intervals until termites are intercepted. (Inspections are more frequent during the warmer summer months and first inspection sooner if the building is under termite attack at the time of initial station installation.) At this point Superway White Ant Termite Bait is added to the Station. Baited Stations should be inspected every 3 – 8 weeks with the more frequent inspections occurring during the initial stages of termite feeding.
When the colony has been eliminated, the Superway White Ant Termite Bait is removed and fresh timber interceptors are placed in the stations. These stations should continue to be monitored on a regular basis.